"Thank God there was no one on the pavement," said the manager of the pub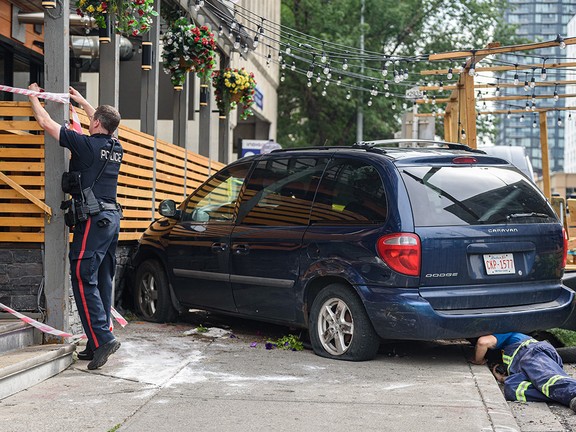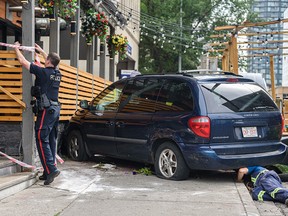 Content of the article
Bottlescrew Bill's Pub is likely to be forced to shut down two of its five patios for the rest of the season after a minivan destroyed them in a crash.
Content of the article
No one was injured in the two-vehicle crash around 10:40 a.m. Thursday. Calgary police had few details, except to say a vehicle collided with the minivan, sending it onto the terraces.
Bottlescrew Bill's has been a mainstay at 140 10th Ave. SW for 40 years along with his restaurant, Buzzards, which was retired recently and converted into a microbrewery.
Geoff Allan, general manager of Bottlescrew Bill's, said there was no damage assessment as of Thursday afternoon.
"Thank God there was no one on the pavement and the staff, I believe, had already swept and cleaned up the area next to our premises as they usually do in the morning," he said.
Staff were indoors preparing for an opening at 11:30 a.m. when the van crashed through the pub's extended patio and onto its 10th Avenue patio. By afternoon, the demolition had begun.
Allan says the watering hole still has a back patio, a flower garden patio and a main patio in operation, but the loss of the two patios due to the crash will take about 50 seats out of business.
"It will have a significant impact on our business," he said.
The brewery also suffered two cracked windows. The pub was still open for business on Thursday and will remain open during the repairs.
Twitter: @JoshAldrich03