Security forces detained more than 1,300 people in Russia on Wednesday at protests condemning mobilizationa rights group said, hours after President Vladimir Putin ordered Russia's first military draft since World War II.
The independent OVD-Info protest monitoring group said that according to information it had collected from 38 Russian cities, more than 1,311 people had been detained by late evening.
It said those numbers included at least 502 in Moscow and 524 in St. Petersburg, Russia's second most populous city. Unsanctioned demonstrations are illegal under Russia's anti-protest laws.
Russian Interior Ministry official Irina Volk said in a statement cited by Russian news agencies that officers had broken up attempts to stage what it called small protests.
"In a number of regions there were attempts to stage unauthorized acts which brought together an extremely small number of participants," Volk was quoted as saying.
"These were all stopped. And the people who violated laws were detained and taken to police stations for investigation and to determine their responsibility."
One-way flights out of Russia surged in price and quickly sold out on Wednesday after Putin ordered the immediate call-up of 300,000 reservists.
The opposition movement Vesna called for protests, saying: "Thousands of Russian men, our fathers, brothers and husbands, will be thrown into the meat grinder of war. What will they die for? What will mothers and children cry for?"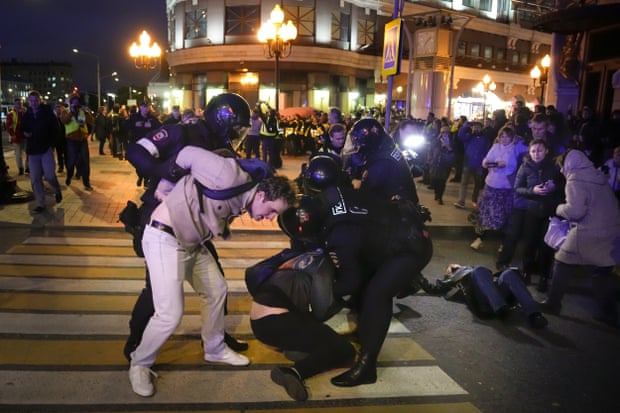 Moscow's prosecutor's office warned that organizing or participating in protests could lead to up to 15 years in prison. Authorities have issued similar warnings ahead of other protests. Wednesday was the first nationwide anti-war protests since the fighting began in late February.
AFP journalists in central Moscow said at least 50 people were detained by police wearing anti-riot gear on a major shopping street.
In St. Petersburg, AFP reporters saw police surround a small group of protesters and detain them one by one and load them onto a bus.
Demonstrators chanted "No mobilization!"
"Everyone is afraid. I'm for peace and I don't want to have to shoot. But coming out now is very dangerous, otherwise there would be many more people," said protester Vasily Fedorov, a student wearing a pacifist symbol on his chest.
"I came out to the rally and planned to attend, but it seems they have already arrested everyone. This regime has condemned itself and is destroying its youth," said Alexei, a 60-year-old resident who declined to give his last name.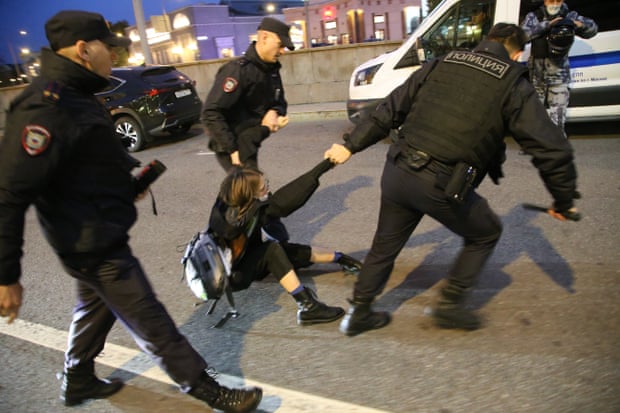 "Why do you serve Putin, a man who has been in power for 20 years!" a young protester shouted at a policeman.
"I came to say that I am against war and mobilization," Oksana Sidorenko, a student, told AFP. "Why are they deciding my future for me? I'm scared for myself, for my brother," she added.
Alina Skvortsova, 20, said she hoped Russians would soon understand the nature of the Kremlin's offensive in neighboring countries Ukraine. "As soon as they really understand it, they will come out into the streets despite the fear," she said.
In Yekaterinburg, Russia's fourth-largest city, police dragged some of the 40 protesters detained at an anti-war rally on buses. A woman in a wheelchair shouted, referring to the Russian president: "Damn the bald head 'nut job'. He's going to drop a bomb on us and we're still all protecting him. I've said enough."
The Interfax news agency quoted the Russian Interior Ministry as saying it had stopped attempts to "organize unauthorized gatherings".
All the demonstrations were stopped and those who committed "violations" were arrested and taken away by the police pending an investigation and prosecution, it added.
With Reuters, Associated Press and Agence France-Presse