Horse racing in Lismore has been suspended mid-meeting and a number of people have been rescued from their flooded vehicles in western NSW after the rain smashed parts of the state.
Key points:
Inland NSW appears to have avoided significant flooding
Severe weather warnings are in place for the Mid North Coast and Northern Rivers
The SES says too many people have had to be rescued from their cars in the state's Central West
Heavy falls have set in on the Mid North Coast, where the risk of flooding is expected to increase over the next 12 to 24 hours.
The Bureau of Meteorology has issued a severe weather warning from Kempsey to the Queensland border.
The fall has again raised concerns that septic tanks at Stuarts Point near Kempsey will require pumping.
Previous severe weather has compromised some of Kempsey Shire Council's septic systems and it said resources have been sent to the waterworks in a bid to avoid further breaches.
Further north, close to 100 millimeters of rain has fallen in parts of Coffs Harbor and surrounding communities.
Minor to moderate flooding is possible for several coastal rivers across the Northern Rivers, Mid North Coast and Hunter regions.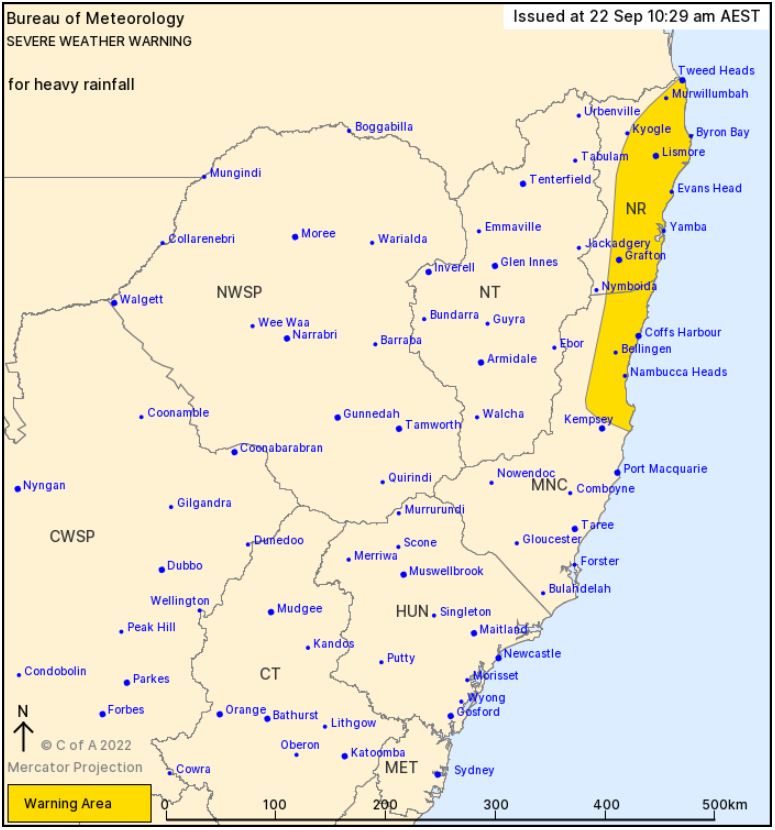 Jake Hoppe from the SES Northern Zone said flooding remained a problem, particularly during the Queen's Memorial.
"We often see that flash flooding is the most dangerous type of flooding, and we often see that affecting people traveling to or from a location," he said.
"We're just urging people to be careful on the roads and take the time to consider their journeys."
Across the state's north, SES received around 15 calls for assistance.
"[The] Most of them have actually been people who wanted to be prepared and ask for sandbags," Mr Hoppe said.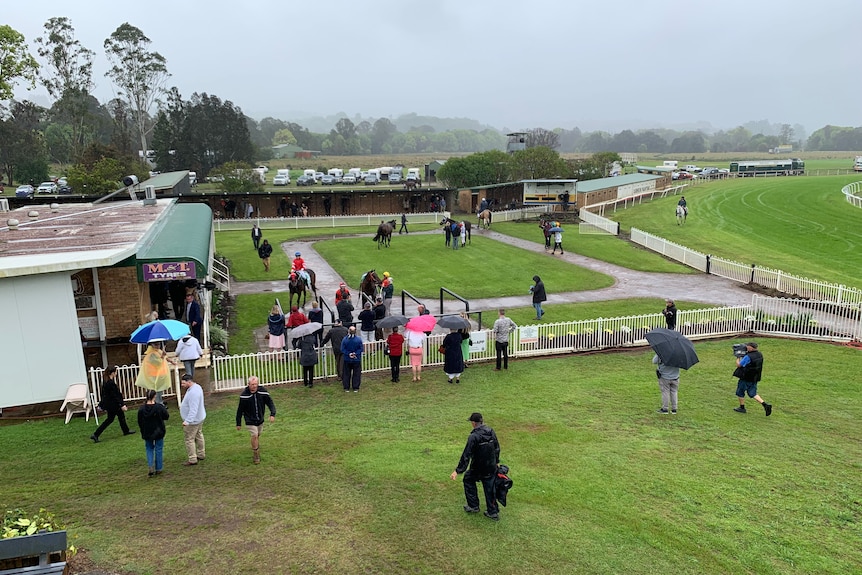 The annual Lismore Cup was canceled mid-meeting after stewards decided the track was too wet for racing.
Despite that, the players still enjoyed the social atmosphere and the on-field fashion competition was held.
Dramatic rescues overnight
The SES said too many motorists had deliberately driven into floodwaters, with some even moving road closure signs to drive at risk.
The service carried out half a dozen rescues in the central west and north west overnight.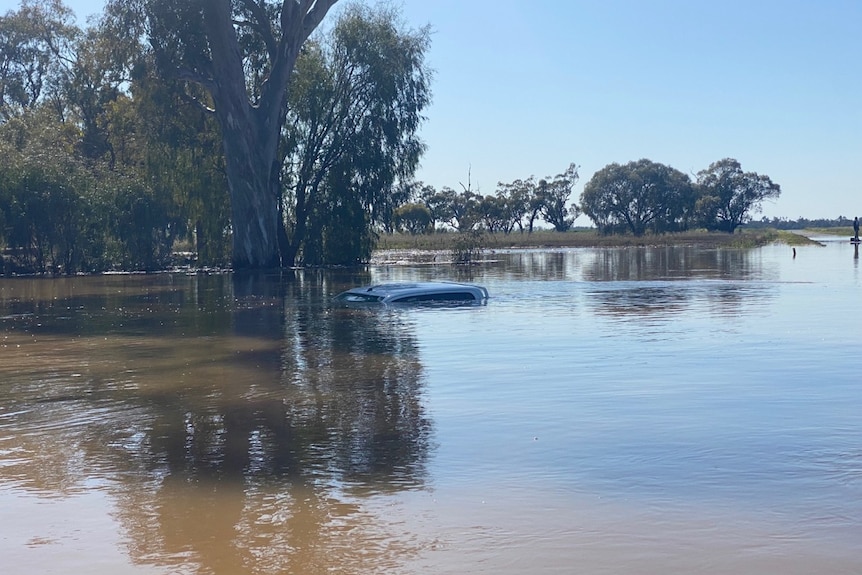 A car was washed off the embankment road at Toongi, near Dubbo, after a stream rose rapidly and ran over Obley Road.
The driver managed to escape the car in time.
Residents who rushed to the person's aid said there were no signs, noting that "when you see the water, it's too late to stop".
"It was pretty dangerous, they were lucky to get out of it," Sam Tourle said.
"We were there for a while trying to smash the windows to try and see if anyone was still inside, it was a big relief when we got the call that they came out."
Most landlocked communities escape the worst
SES deployed crews to Trundle near Parkes in the state Central West after it was surrounded by floodwaters.
There were 16 calls for help from the city and the outlying properties, resulting in three rescues and a helicopter evacuation.
The small town has been surrounded by floods.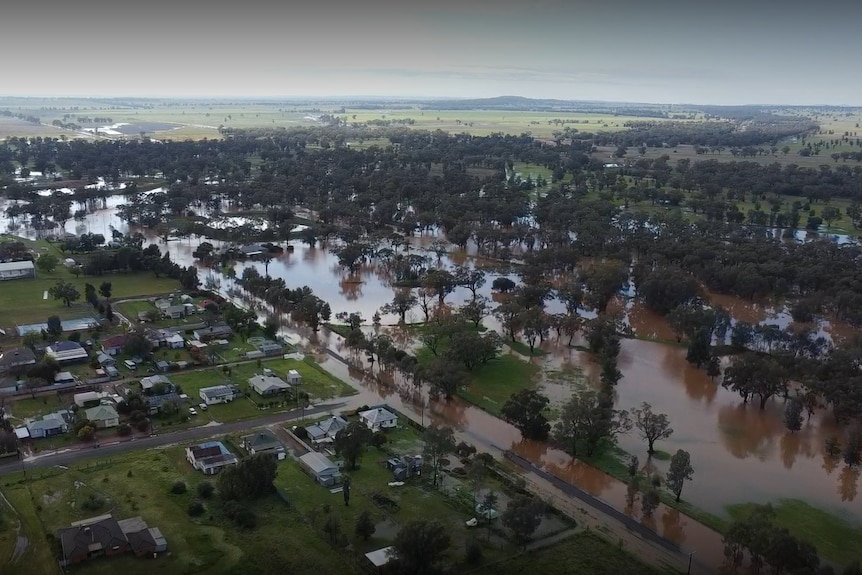 Meanwhile, predictions of significant flooding for areas in the northwest has not materialized so far.
Since at 9 Wednesday Gunnedah and Glenn Innes received almost 50mm and Inverell and Tamworth recorded just 40mm.
The bureau said moderate flooding was possible at Tamworth later this evening.
There is a minor to major flood warning for the Namoi River with flooding expected at Gunnedah tomorrow and Boggabri over the weekend.
David Rankine from the SES said Gunnedah is prepared if river levels rise again.
"SES was preparing for a flood similar to the one last week in Gunnedah," he said.
"[However] when we wake up this morning, [it] that doesn't seem to be the case."
Across the central west, high amounts were recorded across the district in sustained rainfall, but the storms were not as bad as predicted.
Almost 30mm was recorded at Dubbo and more than 20mm fell in the already flood-hit towns of Condobolin and Forbes.
Coonabarabran Airport received 42 mm since 9 Wednesday.