Ella Gibson has only known life to play with her two siblings.
Key points:
Children in isolated parts of Australia can go weeks or months without face-to-face contact with other children
The mobile playgroup visits remote children in indigenous communities, small townships and pastoral stations
About 1,000 children access the service each year
The six-year-old lives at Queensland's secluded Lake Nash Station near the Northern Territory border, where there are no other children for miles.
However, she has made a friendship with eight-year-old McKenna Blackwood after meeting at Brunette Downs Station for its iconic annual race meeting, who returned after recent cancellations.
With her closest neighbors about 90 miles away, she could not remember when she last played with another child who was not her brother or sister.
And she enjoys time with her newfound friend.
"It's really exciting… we finally had to come and so I get to meet some other kids and play with them," she said.
The two plan to collect stones from the entire cattle station to sell to the 600 spectators at the races.
Support for isolated families
Like Ella, many children in isolated parts of Australia can go weeks or even months without face-to-face contact with other children their age.
Katherine Isolated Children's Service is an organization that helps families bring children together.
Its mobile playgroup at Brunette Races gave the kids the opportunity to meet each other, make friends and play.
But children are not the only ones who benefit from mobile playgroups.
Ella's mother Natalie Gibson said the group was also a welcome exposure to parents.
"It can be difficult to have three siblings together constantly without other interaction with other children. [There's] much struggle, "she said.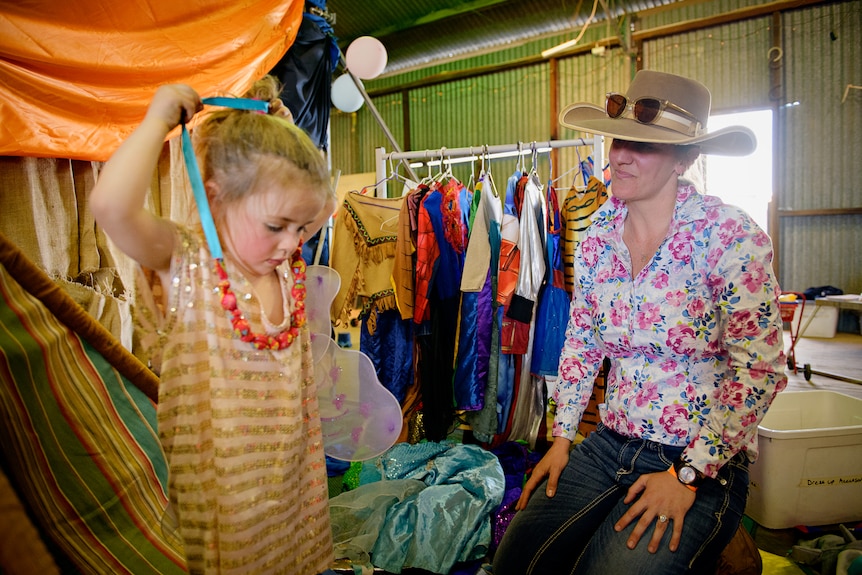 Brunette Downs races were significantly reduced last year due to irregular rainfall and were canceled the previous two years due to drought and the coronavirus pandemic.
Ms Gibson said her family appreciated the chance to attend the event and connect with others, especially through the playgroup.
"It's like Christmas for all of us," she said.
Isolated families say it's exciting to have the mobile playgroup KICS back on Brunette Downs.(

ABC News: Michael Franchi

)
Ella's story one in a thousand
Each year, the Katherine Ministry travels across the Northern Territory to 21 remote indigenous communities, three remote townships, and more than 40 pastoral stations, visiting about a thousand children.
Child service worker Nathalie Hayes said the work takes them across territory and helps children build social skills and interact with others their age.
"Last week we were 150 kilometers from the WA border, today we are, after a guess, 250 kilometers from the Queensland border," she said.
Ms Hayes, who began working on the Katherine service in March, along with her husband Brian, said her role had already been deeply rewarding.
"The best thing about our job is that it all feels good," she said.
"We have an easy, happy and enjoyable job, which is just a dream."
Posted , up to date