LONG, Fla. – That Pinellas County The Sheriff's Office says a construction worker suspected of accidentally striking and killing a deputy at a construction zone on Interstate 275 late Thursday night has been captured after nearly 10 hours on the run.
Pinellas County Sheriff Bob Gualtieri said the highway was closed in both directions while deputies searched for 35-year-old Victor Vazquez-Real, who was allegedly driving a front-end loader designed to carry heavy concrete barriers when he struck Deputy Michael Hartwick.
Gualtieri said Vazquez then went to a co-worker to say he hit a deputy and wanted to flee the scene. The other worker helped Vazquez hide his helmet and work vest, according to investigators. As a result, deputies charged that worker with accessory after the fact.
Vazquez was captured Friday morning, but details of his capture had not been released.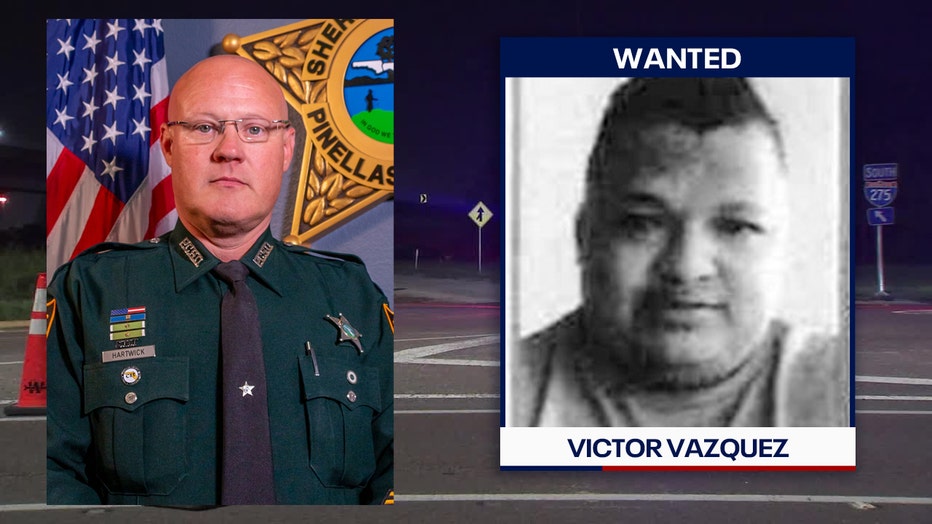 Deputy Michael Hartwick was killed after a construction worker appears to have accidentally hit him along I-275
It happened around midnight on Friday in the area of ​​Ulmerton Road where construction work has been underway.
Deputy Hartwick was assigned to the area to help direct traffic from Roosevelt Blvd. Exit. He was standing outside his cruiser when he was struck and killed, Gualtieri said.
A procession for Deputy Hartwick drove through Pinellas County Friday morning at
The sheriff's office said Hartwick's mother and two sons had been notified of his death while he was on duty. He was a 19-year veteran of the agency.
Meanwhile, traffic in Pinellas County was expected to be affected until noon Friday as deputies closed Interstate 275 near Ulmerton Road and Gandy Boulevard in both directions while they searched for the suspect.
Traffic on Interstate 275 was diverted at Gandy Boulevard and Ulmerton Road. Police urge everyone to avoid the area.