Four students were injured in an apparent drive-by shooting near Overbrook High School shortly after school dismissed early ahead of the Thanksgiving holiday, Philadelphia police said.
Shortly after At 11:30 a.m. Wednesday, a gunman opened fire as students stood outside a store at 60th and Oxford streets, police and school officials said.
The four students involved suffered non-life-threatening injuries, according to a Philadelphia School District spokesman.
A 15-year-old girl was shot in the shoulder and thigh, and another 15-year-old girl was also shot in the shoulder, Philadelphia Police Officer Miguel Torres said. Both girls were listed in stable condition at the hospital.
Two additional victims, both 16-year-old boys, were also shot in the extremities. One of them was also grazed in the face by a bullet, according to Torres. Both were stable in hospital.
Philadelphia Police First Deputy Commissioner John Stanford said it was not immediately clear whether the shooting was a targeted attack.
"We are heartbroken at how senseless gun violence continues to plague our city. Its impact extends to all students, staff and the school community," the school district of Philadelphia said in an emailed statement. "The ongoing violence is erasing everyone's sense of safety, especially during high school times such as arrival and dismissal periods."
SkyForce10 above the scene in Overbrook showed several law enforcement officers standing at the intersection about a block from the school. A glass door and a window in the Beauty Lounge hair salon were shattered by what appeared to be gunshots.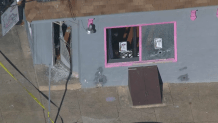 PPD and the Office of School Safety are continuing to investigate, the district spokesman said.
This is a development story. Check back here for the latest updates as they happen.
Sign up for our Break newsletter to get the most urgent news in your inbox.